There's so many different types of hard flooring on the market these days, it can get very over-whelming with all the different choices and advice you are given. As we are an independent supplier and fitter in Pembrokeshire, and regularly give advice to our clients on this subject, we've decided to put together a short guide to the benefits and drawbacks of some of the different types to help you see the wood for the trees (or the engineered from the solid!)
Luxury Vinyl Tiles
This is a fast-growing industry at the moment, and for very good reason. Vinyl tiles, or more commonly known by the brand names of Karndean, Amtico & Harvey Maria, are both stylish and practical. Karndean and Harvey Maria are our favourite brands because of the excellent long guarantees that they come with, as long as they are fitted by an approved installer. A flooring fitter should always check the damp levels of the floor, and provide sound advice on prepping it ready for a perfect finish when the final and top layer of flooring goes down. This will ensure that the floor won't fail in months and years to come.
Vinyl tiles are easy to clean, and waterproof, great for homes with pets and children, warmer underfoot than ceramics and generally a very hard-wearing product.
Look out for anything less than a 0.55mm wear layer as it won't be very hard wearing.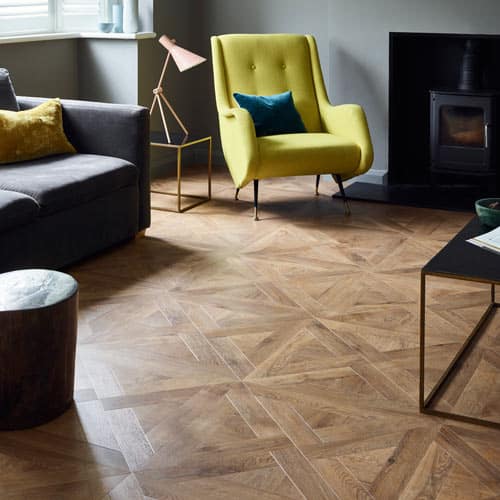 Natural Stone Floors
If you're working on an old renovation or trying to add in some character to a building then stone floors could be the way to go. From slate to limestone to marble, these organic and raw materials are extremely tactile and will never wear out. If you want something more contemporary then you could go for a polished or honed finish which will give you a smooth surface. If you're looking for something a little more rustic then you can go for tumbled or etched, which will give you the rough edges and more traditional look. Stone floors are a little bit less practical with children as it's a harder surface. Very little maintenance is required with stone, as long as it's sealed properly when installed. Stone is a natural product, there will be some variety in colour, tone and texture. This is part of the beauty of the material and should be expected. If you want a consistent colour and finish, a man made product would suit you better.
Things to look out for
Where the stone tiles have come from has an impact on quality, for both the stone itself and for consistency of quality control as it leaves the quarry. The depth of the tiles and the density. The deeper in the quarry they come from, the more dense and higher quality it will be. Also check if the palettes are taken from the same slab. This will ensure the colour variation is as close as it can be.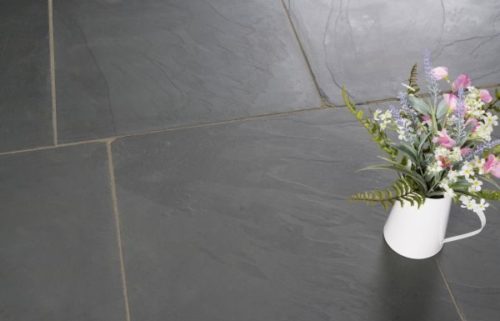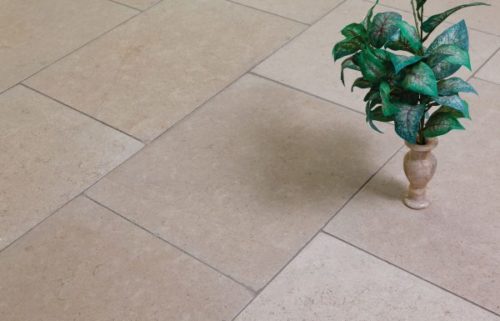 Cushioned Vinyl
A great budget option for bathrooms and small kitchens. Warm underfoot and available in hundreds of ceramic & wood plank designs available. Cushioned vinyl or roll vinyl flooring is perfect for lightly used areas with low footfall.
Things to look out for
This type of flooring is usually a great short-term option as it will puncture with high pressure such as walking on it with heels. It's still easy to clean but won't stand up to dog claws very well.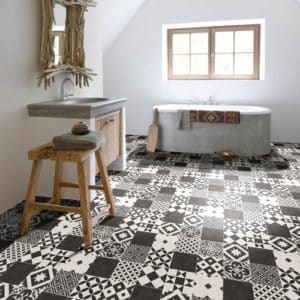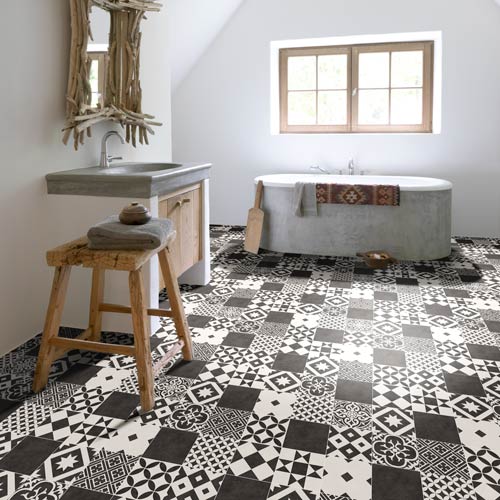 Laminate Flooring
Laminates are steadily being replaced by vinyl tile flooring. Laminates have a top printed layer which wears away very quickly in high and medium footfall areas. Any water contact will make the planks expand and very quickly ruin the floor. Laminate has always been a great budget option, but can also be noisy and doesn't last very long. Try to stick to well known brands such as Quickstep, and look out for the Hydroseal version as this is a much better quality product.
Ceramic & Porcelain Tiles
This is another product that is slowly being replaced by vinyl tiles in the market because the vinyl is much easier to clean. There are still some great design options in ceramic & porcelain tiles and they work particularly well in bathrooms where you can match the wall and floor tiles for a consistent finish. Ceramics are perfect for kitchen splashbacks, although cleaning grout is always a little bit tricky. It's worth looking at underfloor heating with these tiles because it can be quite cold underfoot.
Solid & Engineered Wood
Solid Wood
If you already have a solid wood floor, then it's usually worth restoring. Because it's solid all the way through, it can be sanded several times throughout it's lifetime. Solid wood does dent and scratch, and is particularly expensive to buy new.
Engineered wood
A great alternative to solid wood if you are putting a new floor in. It's much more cost effective than solid wood and gives a lovely natural finish. Oiled floors are relatively high maintenance and will need oiling every couple of years. Lacquered finished are also available and will last much longer without any maintenance. Again, these floors will dent and scratch, it's part of the natural material so you'll need to embrace the look of a not quite perfect finish.