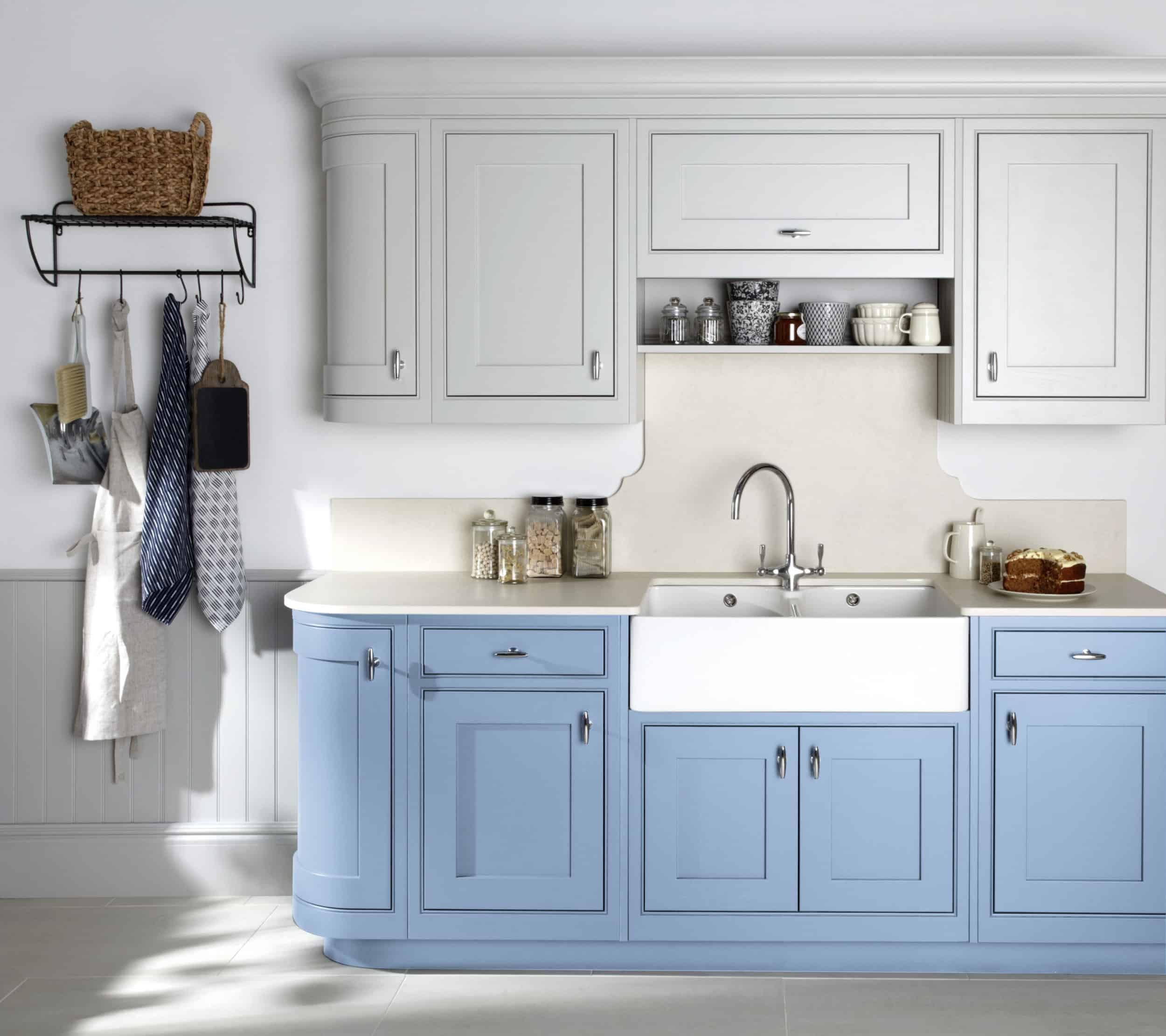 Our kitchens are where we spend so much of our time, cooking, entertaining guests, baking with the grandchildren, dining, it really is the hub of the home. The farmhouse kitchen has always been around and is still a very popular choice with its enduring and charming appeal.
The look of a farmhouse kitchen is extremely versatile. With being able to use different cabinets, no need for base units to match wall units, the array of colours, textures and styles that can be used to create a truly bespoke kitchen that suits your homelife and your personality yet remaining completely functional.
The farmhouse kitchen always has that element of 'Home', that warm, inviting, cosy feeling, that wraps its arms around you as soon as you enter it. It is where the cooking smells and sound of laughter come oozing out of. Many farmhouse kitchens have withstood years and years of family life, showing signs of wear and tear but this just adds to its charm and character.
The design of a traditional kitchen such as this, is rapidly changing and moving along with the trends of today, it has the character that we know and love, but with a modern twist. Keeping the rustic feel, mixing the old with new captures elements of the style, but brings it fully up to date.
Let's start with the units and worktops and build our kitchen around them. The Shaker Style units are predominately used in a farmhouse kitchen. Shaker style doors work in both a classic, country style kitchen as well as a modern, contemporary kitchen. They have a recessed centre which can bevelled or plain depending on the finish you prefer. The units can be free standing, giving the kitchen a more relaxed feel than a fully fitted kitchen and you can even mix and match the units to achieve the best space for your family's needs. Alternatives to classic base cabinet doors are fabrics that can be used beneath the worktop to create a cute, vintage look. Fabrics are often used to hide under counter appliances.
For larger kitchens or open plan living areas, it would be an advantage to the design and practicality to have an island installed. The island is multi-purpose as it can be used to cook, socialise and eat, making it the perfect addition to a farmhouse kitchen.
The colour of the cabinets plays a very important factor within its design, white or light neutral colours are the most common palette, but other colours such as grey and navy blue are becoming an extremely popular choice. You can make your kitchen completely bespoke by considering other finishing touches such as, pelmets, cornicing, glass display units, plate and wine racks, tray inserts, larder units, the choices are endless. An effective way to turn your kitchen into a farmhouse style, is adding in some open shelving. It has a natural and raw effect, allowing you to show off some of your favourite crockery, adding colour and interest at the same time.
Considering other farmhouse staples, the traditional range cooker and butlers sink add character and compliment the units.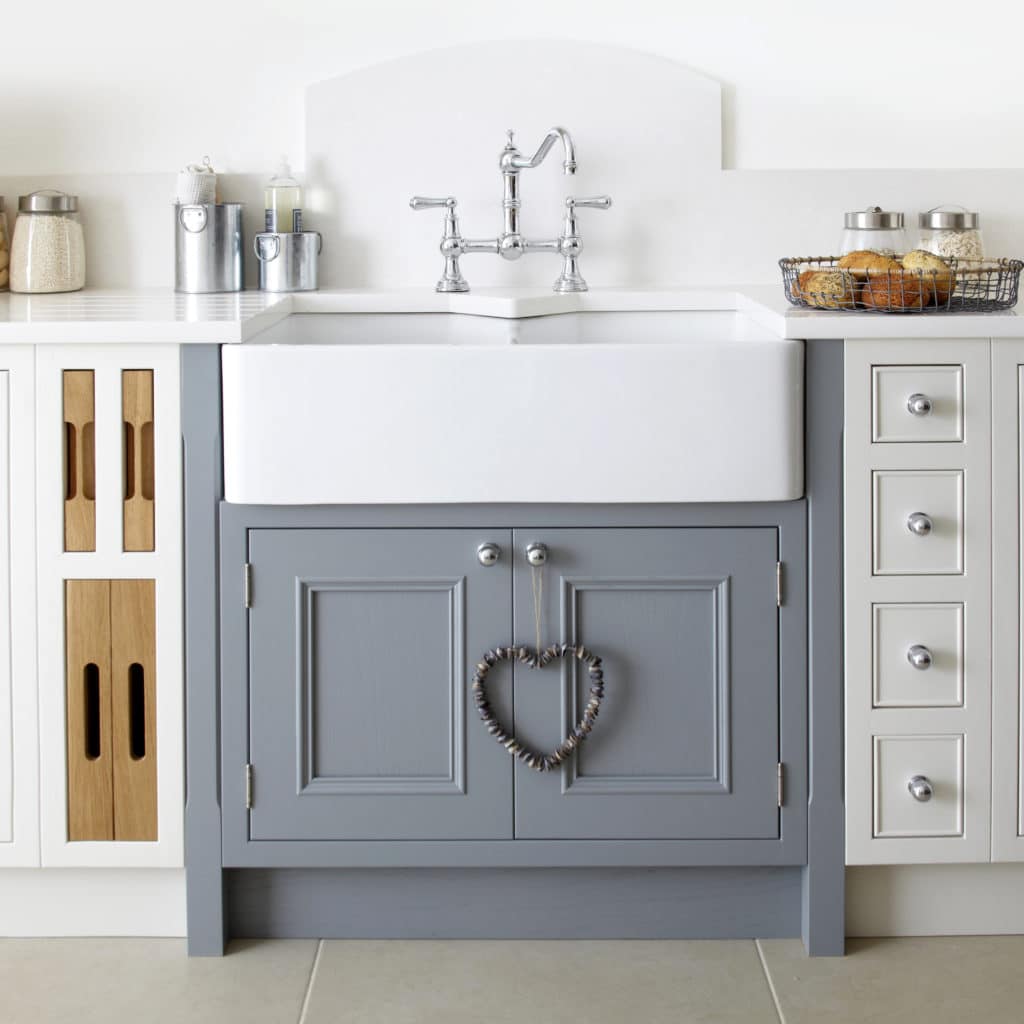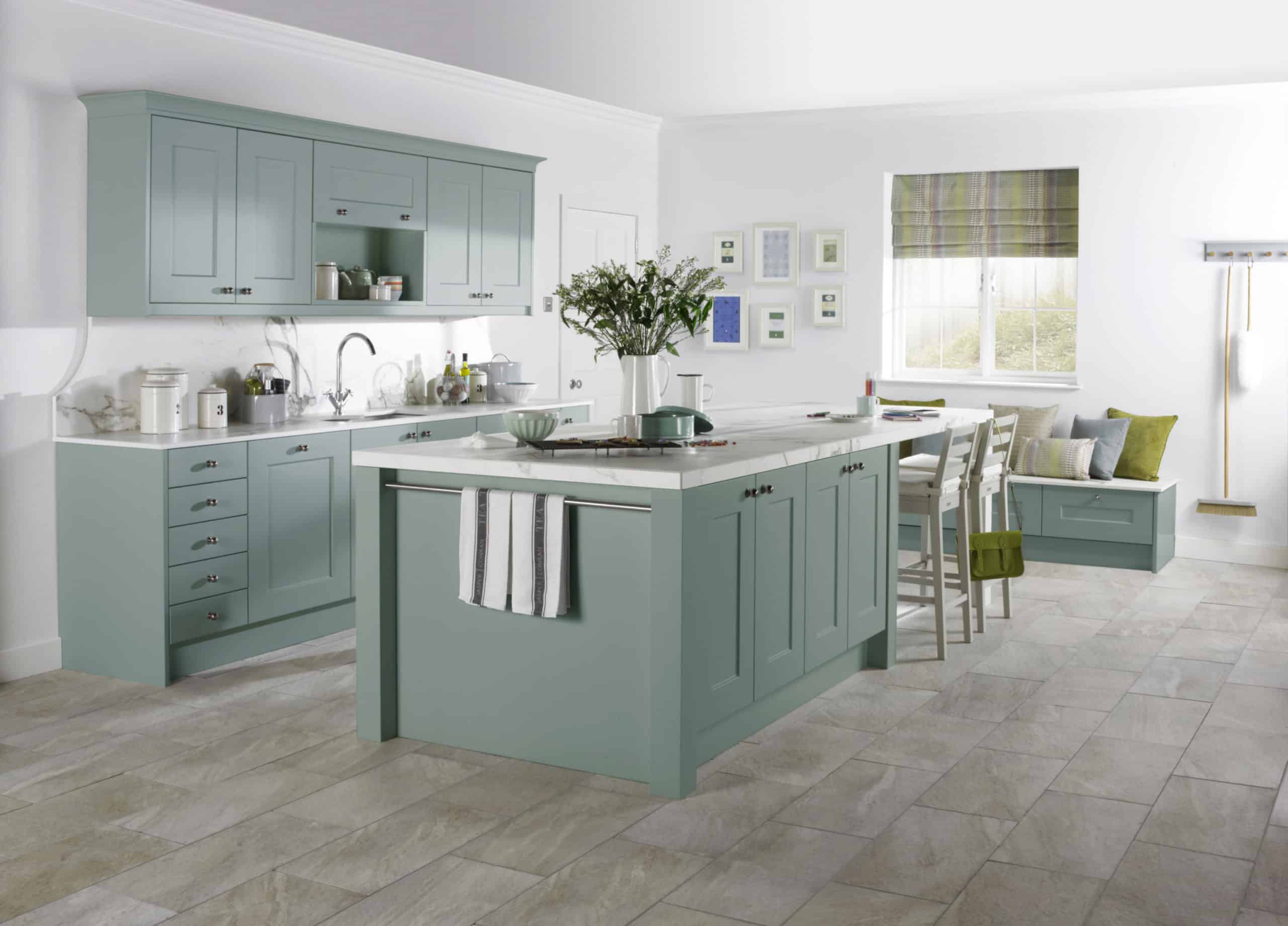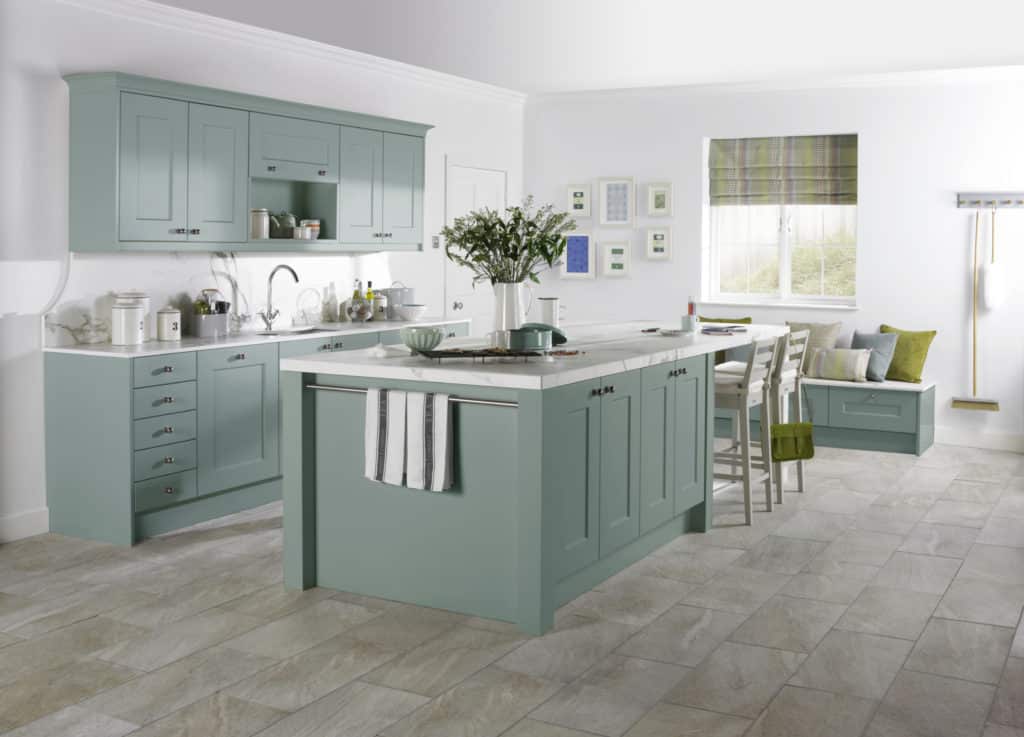 Your kitchen units also need to compliment other finishes such as your worktop. The most common choices for a worktop in a country style kitchen is wood or stone. Wood seems to be the most preferred choice as the warm tones of wood worktops add a wholesome, welcoming atmosphere. Wooden worktops do tend to need some looking after to prolong their use, but it can be easy to restore should it get damaged, as sanding and polishing can remove scratches. The colours of the stone worktop that tend to work best are the more natural colours rather than a heavy black, which will detract from the county look you wish to create.
With the kitchen being the heart of the home, choosing the right type of flooring for this busy area is an important decision. In many homes it is the area that sees most of the wear and tear, so it is important to choose a flooring that can live up to this demand.
Wood flooring is the traditional choice for many country kitchens. The warm tones and textures of wood fit naturally with a country interior. If you have original floorboards, the popular trend is for a 'distressed' appearance that maintains the extreme weathering of the boards. But for a crisper and cleaner look, you can sand the floorboards, wax or varnish, bringing the floor back to life.
Another desired look for the farmhouse kitchen is flagstone flooring. This captures the essence of a country kitchen with the natural colours and shapes that the flagstone provides. They come in an array of shapes, sizes and textures depending on where the stone originates from. The variety in which the flagstones are available means that you can achieve a unique floor for your home, and they are easy to care for.
If your kitchen has timbers on the ceiling or walls, leaving these exposed provides a focal point and a welcoming and cosy farmhouse feel. It adds to the rustic look and breaks up the paintwork. When thinking of colours to paint your kitchen, if you are wanting to add a splash of colour, natural tones tend to work better. Soft blues and greens are gentle enough to not detract from the other features of the kitchen.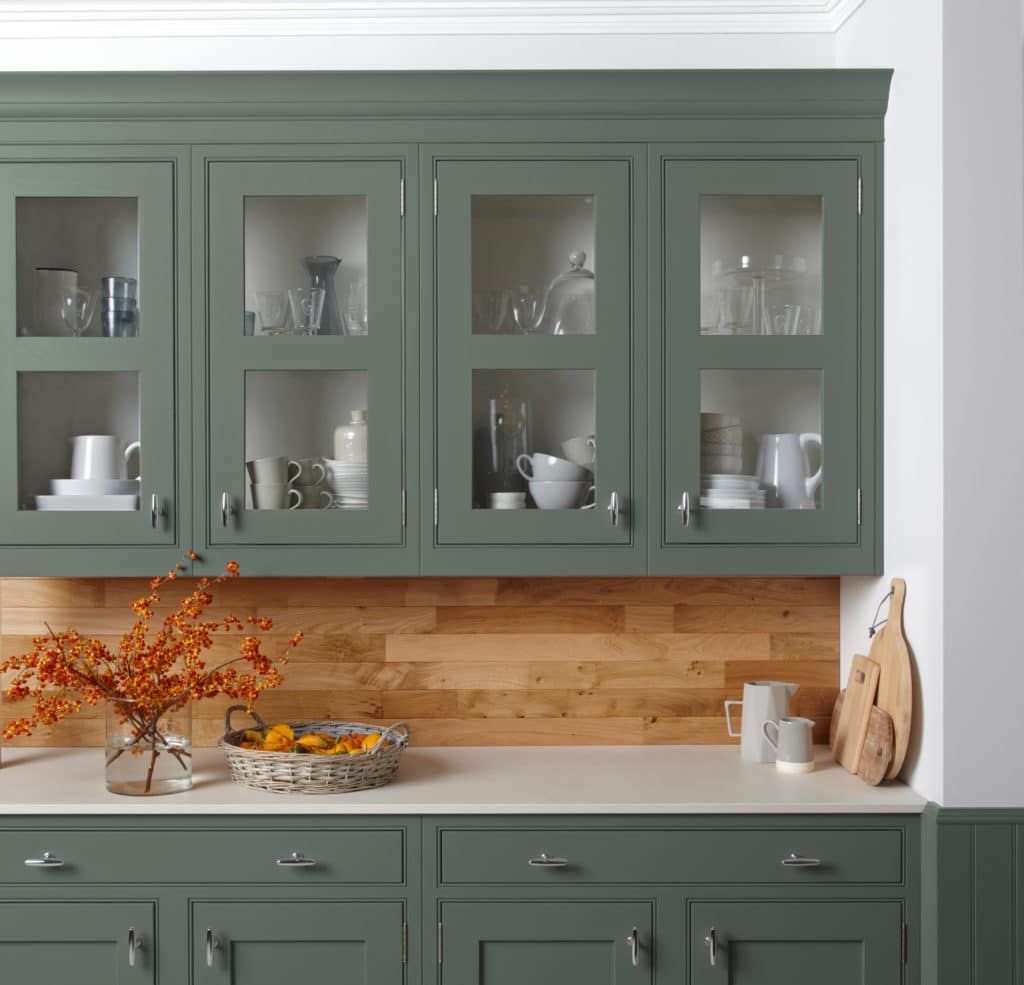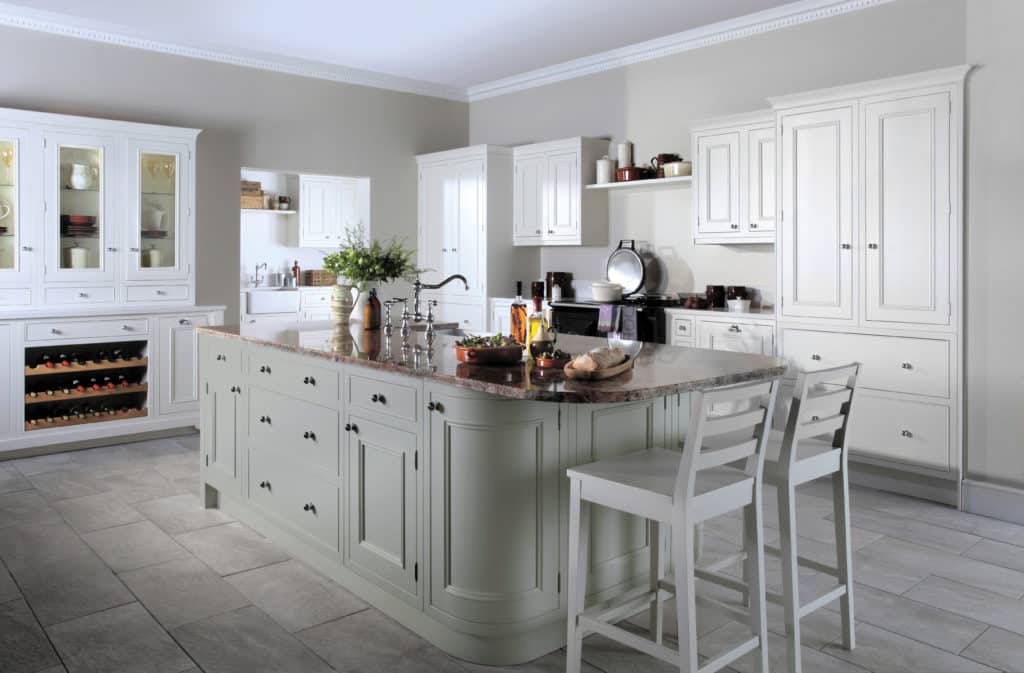 Depending on the size of your kitchen, an accent wall always makes an attractive feature. In keeping with the natural elements of a farmhouse kitchen the most complimentary materials to use are wood or brick. If your desired featured wall consists of wood, you could paint it in colour that ties in with your kitchen units.
Choosing the correct window dressings for your farmhouse kitchen, is down to personal taste and the type of look you want to create. Whether your kitchen be completely traditional or have a modern twist. It is important to always dress the windows but making sure that the fabric chosen is not too heavy or dark. The importance of allowing as much natural light in as possible adds to the feel of the room.
A traditional farmhouse style captures grace and style but mixed with rustic elements. The most popular colours used are mainly whites and neutrals, but as with the kitchen units, greys are becoming more and more popular. The type of dressings more commonly used are soft curtains in sheer fabrics and roman blinds which give a neat finish and beautifully frame the window, in pretty florals or county checks.
Lighting plays an important role in the design you wish to create; it can even be the base to your design, marrying up your kitchen ideas with the features of the lighting whether that may be elegantly weathered or a more modern clean look. There are many types and designs of characterful lighting that would suit the farmhouse kitchen. You could opt for pendant lighting that can be placed above the island or breakfast bar, an iron chandelier or even vintage track lighting where the lamps can hang from a rustic wooden feature. All these lighting options would be in keeping with the farmhouse style.